Rental Property Cleaning
Keeping vacation rentals sharp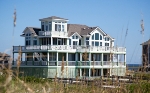 The Cleaning Crusaders is the company to trust for all your rental property management and cleaning services. Over the years we have handled a variety of services for rental properties including Vacation Rentals, Property Rentals, and House Rentals. Whether you are an out-of-state landlord or right around the corner from your rental, we can make your rental property management simple.
Move-out cleaning services can be scheduled and billed immediately in order to minimize turnaround time for the rental property.
We are experienced in Vacation Rental cleaning and can provide you with the efficiency you need to turn over your rental quickly. We give you the ability to customize each rental or vacation property checklist in order to customize the needs of each property. Our team will quickly notify the landlord of rental's state in order to aid in efficiently processing tenant rental deposits. We even give discounts for bulk services based on the number of rental properties.
We have experience in managing rentals for out-of-state landlords including phone or email notifications after each clean-out with a report of the rental's condition.